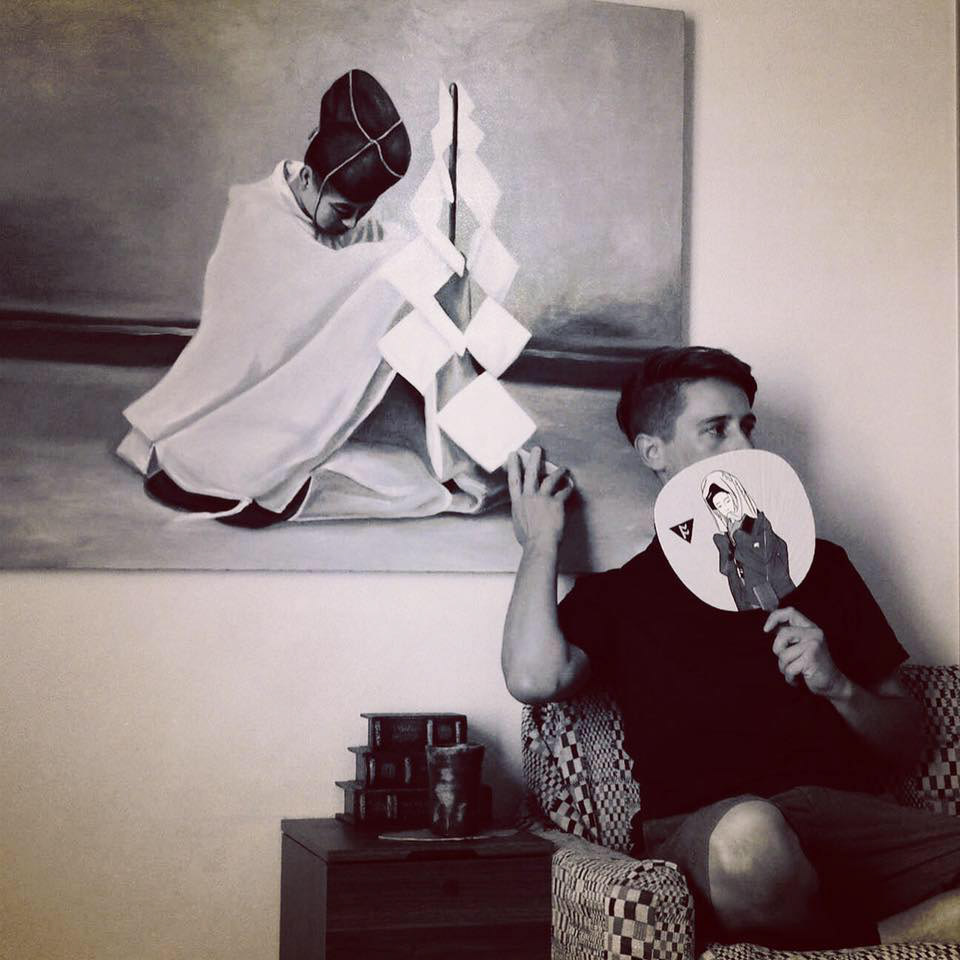 Born in Hastings, New Zealand, April 24 1985.
Currently residing in Kurashiki shi Okayama Japan.
Trained and practising predominantly in oil painting and drawing.
I have preoccupied much of my life from a very early age in an interest in Art. From about the age of 11 I have sought to pursue a life that involved Art in some way and so dedicated most of my energy and time into studying and practising art, in particular painting and drawing. Through high school I had developed and experimented with various media and techniques as well as began to exhibit in both group and solo shows. After high school I attended Art college and studied painting and drawing among other disciplines in Fine Arts. 
I became fond of the traditional methodology of painting in oils from stretching and priming a canvas right through to varnishing. After Art college I enrolled into university and studied literature, creative writing, sociology, semiotics and aesthetics. During this time I practised and continued to emerge as a painter. Both my painting and drawing style is concerned particularly with the figure as I am interested in the correlation between art and the human condition. 
To me art is an omnipotent construct. It is the only thing created by humanity that surpasses all other human creations; politics, law, government, society, architecture, fashion and lifestyle trends, war, religion and so on. It is the only thing necessary and at the same time unnecessary to human existence. To this, art is also timeless. 
It continuously changes to time, representing to audiences the ever changing themes of the human condition and also at the same time immortalises the themes and subjects depicted or presented. These concepts of omnipotence and empowerment of the subject over the audience are the base of inspiration for my work.
​​​​​​​
1985年       4月24日 ニュージーランド ヘイスティングス生まれ
画家であった祖母の影響もあり、芸術に関心持つようになる
1996年       芸術に関わる人生を追求しようと決心
2003年       高校を卒業後、TAFEの美術学校へ進学、美術における
キャンバス張りから最終段階のニスでの仕上げに至るまでの
2006年       美術学校を卒業後、大学へ進学
在学中                          個展にて活動
私の油彩画とスケッチの手法は両方とも、芸術と人間との心理性的性質の相関関係への強い関心を表現しています。
人間はこれまで様々なものを創造してきました。政治、法律、行政、社会、建築、ファッションとライフスタイルの動向、戦争、宗教 ― それら全てを凌ぐ、唯一の存在が芸術だと捉えています。
芸術は必要と不必要の相反する2つの性質を持ち合わせる唯一のものです。
この先ずっと、変化しつづける人間の性質というテーマを全ての人へ啓示しながら、時と共に継続的に変化させるでしょう。
こうして芸術は、描かれ提起されたテーマや主体を不朽のものとするのです。
このような全能性と大衆に対する主体のエンパワーメントの概念が私の作品のインスピレーションの基盤となっています。